The Veterans of Foreign Wars (VFW) Department of Washington District 6 presented awards to a pair of Kalama Middle School students and a Kalama High School teacher on Wednesday, January 11.
The awards, which are part of a national VFW program, are given each year to promote a sense of patriotism in American youth.
The two student award recipients, 8th graders Kate Chilcote (third place finish) and Loretta Harrington (second place finish) were selected after submitting entries to an essay writing contest about the role of patriotism in their lives. The students were recognized in front of their peers and received certificates and a pair of VFW pins.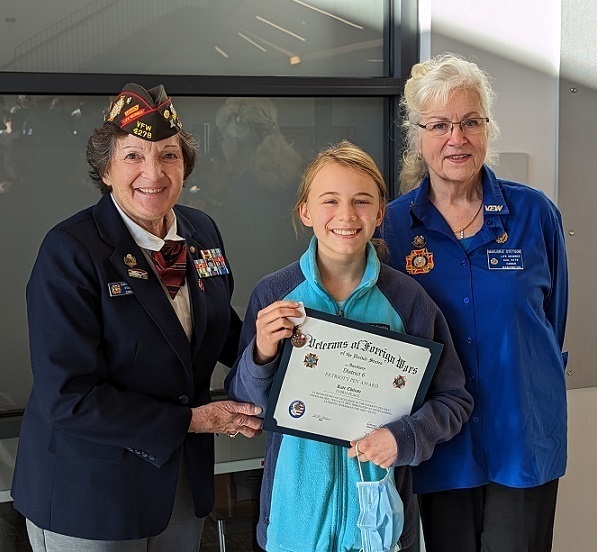 Ken White, a social studies teacher at Kalama High School, was named the VFW District 6 Teacher of the Year and received a plaque in recognition of "excellence in teaching positive citizenship to students by encouraging them to explore their past and our country's history."
Presenting the awards was Dana Difford, VFW WA District 6 Commander, Marjorie Stetson, VFW WA District 6 President, and Randy Hahn, VFW WA Post 10435 Humanitarian Chairman.
"In total, across our entire district (the Southwest Washington region), we had 11 winners," Difford noted. "It really is remarkable that a small school like Kalama has three of them. It really tells you a lot about this community."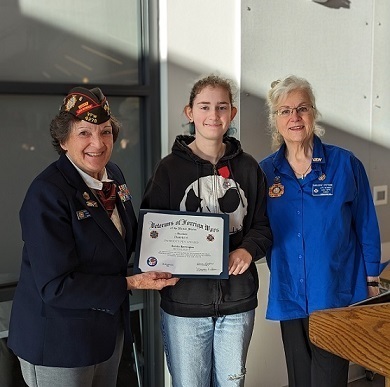 Congratulations to Kate, Loretta and Mr. White!