Kalama School District has been awarded nearly $333,000 in state grant funds to help increase the number of career and technical education (CTE) courses and career pathways available to students at Kalama High School.
By adding to the number of CTE courses the school has to offer, students will not only be able to access more dual credit opportunities (through Lower Columbia College), but industry-recognized credentials as well.
"We're trying to prepare all of our students to be career- and college-ready," explained Cory Torppa, director of the CTE program in Kalama. "We want to be able to offer programs where students are learning the skills of today and tomorrow – whether they're going into an entry-level job straight out of high school, or to a trade school, tech school, apprenticeship program, four-year college, (or the) military. That's the goal."
With career pathways in mind, the district plans to use the majority of the grant funds to establish a computer lab at Kalama High School. The new lab will feature dual-monitor workstations that are capable of running industry-grade software – something the current small laptop devices that are given to students at the beginning of the year are unable to do.
With a new computer lab in place, high school students in Kalama will have access to up to 12 dual credits as well as Microsoft training courses and certifications. Currently, students taking the school's Computer Applications 1 class are able to earn up to eight credits.
The new computer lab also paves the way for students to work on their High School and Beyond plans and to establish a digital portfolio of their high school coursework – something that the school's industry-backed CTE Advisory Group has strongly recommended.
Beyond the computer lab, grant funds will be used to add a Construction 2 class where, according to Torppa, "the goal in the next few years is to be able to build a tiny house with Kalama students."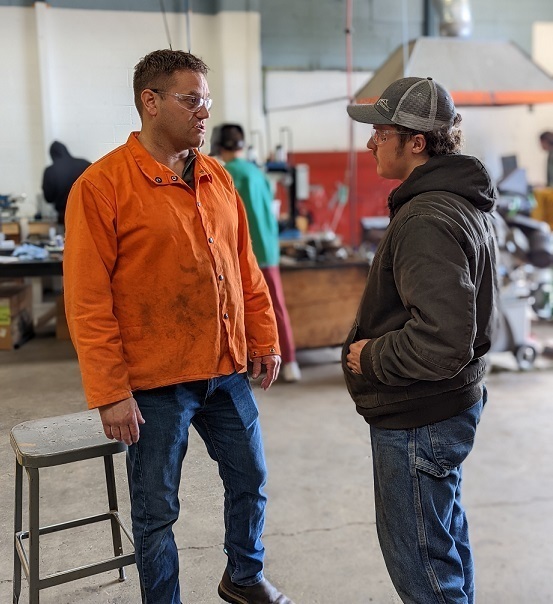 The school's welding and manufacturing courses will also see enhancements and additions to create more dual credit opportunities and to prepare students for welding certifications.
Finally, a portion of the grant funds will be used to double the school's Robotics course offerings and to establish an official after-school Robotics Club.
"When we can add a second course or a second level to an existing course, we've really succeeded in creating a new graduation pathway for our students," said Torppa. "It's a really big deal for us to be able to do that."
The school's new computer lab and course offerings will be available to students beginning next school year.
"I'm very proud of our grant team, and Mr. Torppa in particular for his tenacity to go after funding opportunities that are directly aligned with input he has received from industry partners," said Eric Nerison, Kalama School District Superintendent. "We would not have the opportunities we have without his leadership to create meaningful alignments with industry. This alignment ensures our students will have opportunities that are not only engaging, but also rooted in the development of skills that the local industry is looking for."
The school's new computer lab and course offerings will be available to students beginning next school year.