EDIT MAIN
EDUCATIONAL PROGRAMS & OPERATIONS REPLACEMENT LEVY
On February 24, after weeks of gathering feedback from the community, The Kalama School Board approved a revised replacement levy resolution for the April 28, 2020 Special Election ballot.
This three-year levy, which replaces the 2018 voter-approved levy that expires this year, will allow the school district to provide critical programs and services that are not funded or only partially funded by the state.
---
You spoke, we listened & ADJUSTED THE LEVY PROPOSAL!
Following February's Special Election results, we asked members of the community to help revise our replacement levy resolution by providing us with comments, suggestions and questions. Based on your feedback, here's what we learned…
► You'd like to maintain the current levy rate of $1.50.
Our revised replacement levy proposal WILL KEEP RATES AT $1.50 per $1,000 of assessed property value. This means no rate increase!
► You asked: Which programs will be eliminated or reduced If the levy does not pass?
Based on current estimates, the district anticipates the following impacts if the proposed replacement levy does not pass: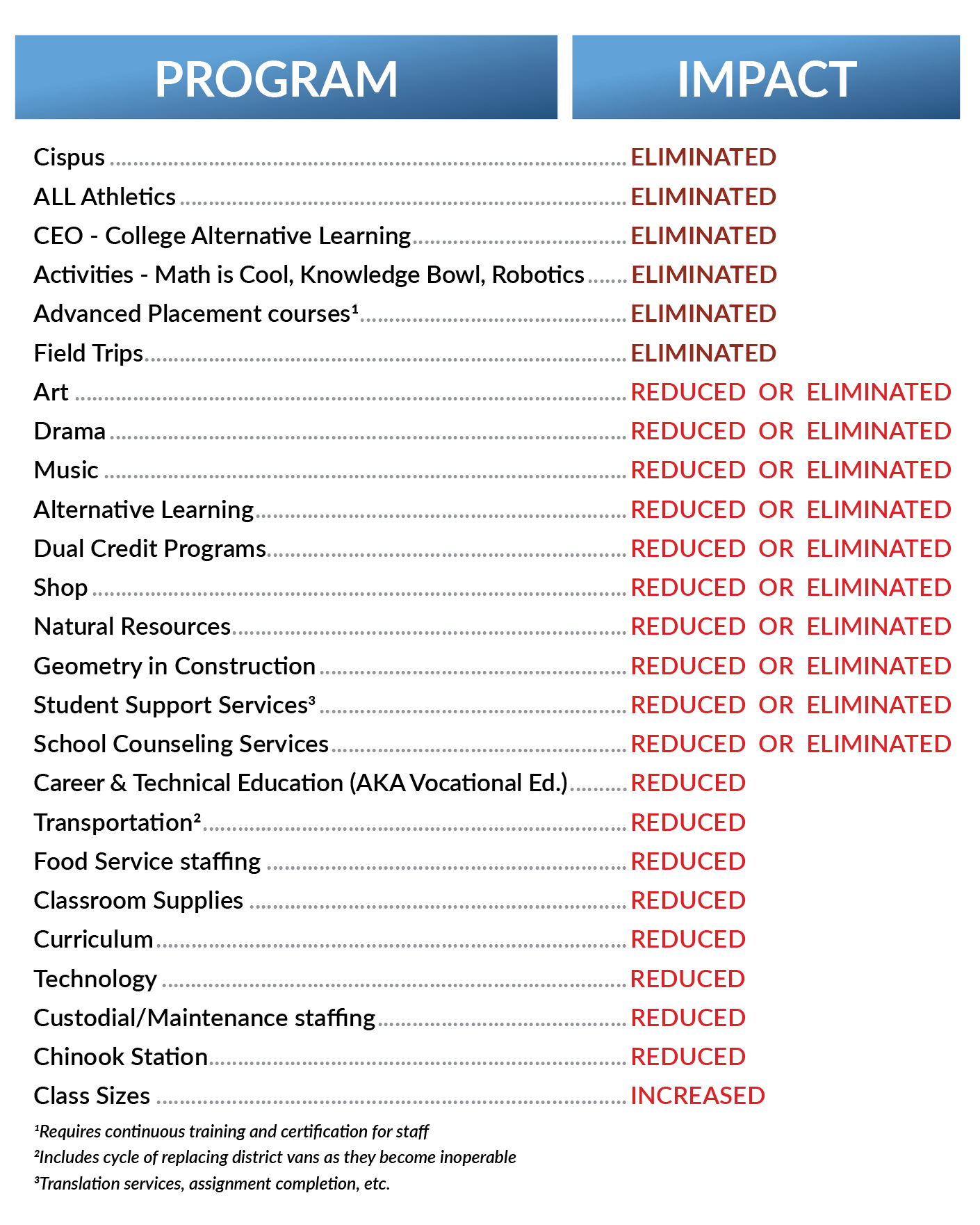 ► The replacement levy will directly support these programs/services:

► You asked: Can parents pay the cost of extra-curricular activities with "pay-to-play" and/or fundraising?
Yes, pay-to-play and fundraising will be used to support extra-curricular activities in Kalama. However, these methods alone won't generate enough dollars to fully fund a program like athletics. That's where the replacement levy steps in.
---
Frequently asked questions (FAQ)
The questions above don't cover all of the topics you've raised, so we've compiled a set of additional frequently asked questions related to the replacement levy:
Why is the district running a replacement levy?
To help answer that question, here's a video explanation of the levy featuring KSD Superintendent Eric Nerison.

Will the coronavirus have an impact on the Special Election on April 28?
The April 28 Special Election will continue as planned, with ballots being mailed out by Cowlitz County on Friday, April 10. If you don't receive your ballot by April 17, please contact the Elections Office. Ballots must be postmarked by April 28, 2020 or returned to one of the ballot drop boxes by 8 p.m. on Election Day.
Due to the COVID-19 outbreak, the Election's Office is closed to in-person services (online services are still available). If you have questions, you can call 360.577.3005 or email elections@co.cowlitz.wa.us.
What is the difference between the February replacement levy proposal and this one?
While both proposals support educational programs not funded or not fully-funded by the state, the February resolution included funding to overhaul the district's special education program and to replace the track and field. This plan would have cost taxpayers an estimated $1.98 per $1,000 of assessed property value in the first year. Under the revised proposal, the current $1.50 rate is maintained and programs are not cut. However, the special education and track/field initiatives are on hold.
Is this levy a new tax?
NO. This is a replacement of the current levy, at the same rate, that provides programs and operations that serve our students. The current voter-approved levy expires later this year.
What's on the ballot?
The ballot resolution seeks the authority to collect up to $2,329,475 in 2021, $2,492,539 in 2022, and $2,667,016 in 2023. This keeps estimated levy rates per $1,000 of assessed property value at $1.50.
How does the $1.50 rate compare to what neighboring school districts are asking for?
Kalama's proposed levy tax rate is lower than what all other school districts in Cowlitz County are authorized to collect (or are currently asking voters to approve). The following estimated rates (per $1,000 of assessed property value) are for the year 2021: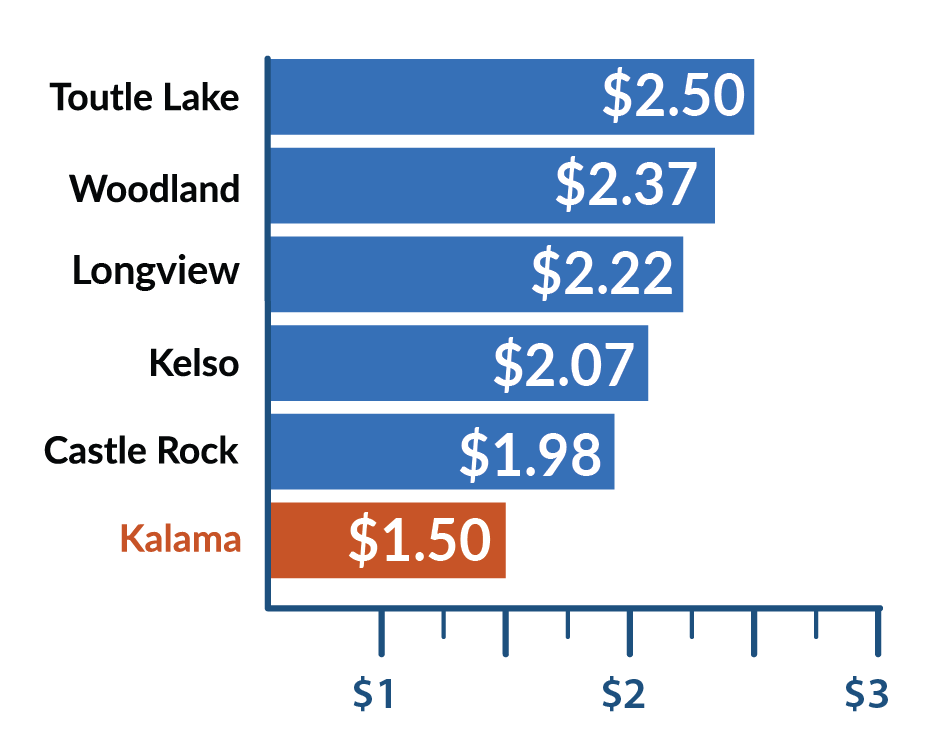 How does this levy rate compare to what Kalama citizens have paid in previous years?
Between 1990 and 2020, the district's levy rate averaged around $1.90, so this revised replacement levy ($1.50) is significantly lower than the historical average. Here's a look at how levy rates have changed over the last handful of years (the current proposal is in light blue):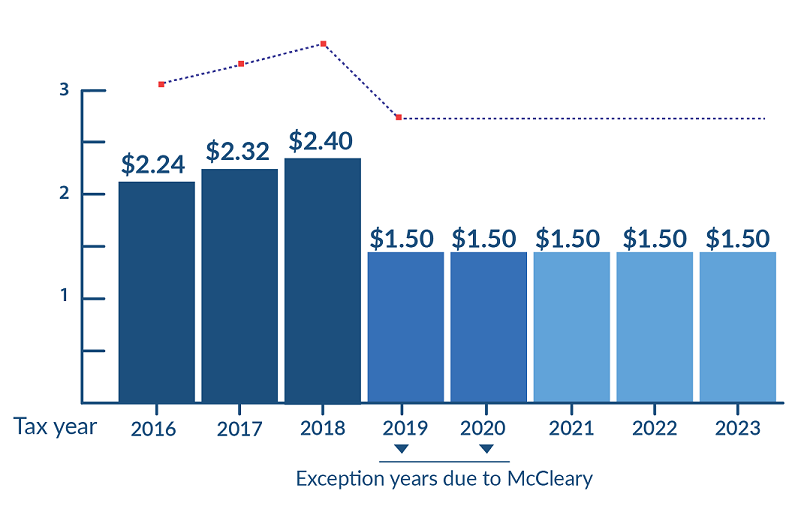 If this replacement levy passes, will citizens be paying an additional $1.50 per $1,000 of assessed property value on top of what they are already paying in levy dues?
NO. The existing levy is going away, so if voters approve the ballot resolution in April, the current levy tax rate is simply extended through 2023.
How are my taxes calculated for the levy?
View the short video response to this question from KSD Superintendent Eric Nerison.

Is there a tax break for senior citizens?
YES! Washington State law provides two tax benefit programs for senior citizens and individuals who are disabled: property tax exemptions and property tax deferrals. For more information on qualifications, please contact the Cowlitz County Assessor's Office.
What is an Educational Programs & Operations levy?
Educational Programs and Operations (EP&O) levies allow a school district to provide things like teachers, support staff, supplies and materials, or services that the state only partially funds. Funding provided by the state does not fully cover the actual costs to operate a school district, so EP&O levies bridge the gap in funding. These levies can be approved for up to four years.
What is the difference between a bond and a levy?
In short, bonds are for building and levies are for learning. A bond provides funding for capital projects such as purchasing property for schools, constructing new schools or modernizing existing schools. A levy funds educational programs and services that the state does not fund or fully fund as part of "basic education."
Check out this helpful video on bonds vs. levies from ESD 112:
---

Additional resources: