The new two-story Kalama Middle School/High School building is now 85 percent complete and will be ready for students to enjoy when the 2021-2022 school year kicks off this fall.
The 33,000-square-foot building features six classrooms, two learning commons, two science labs, two science prep rooms, a maker space, library, media center, cafeteria and more.
Construction of the building, which is on-schedule and on-budget, was financed by the 2018 voter-approved bond. That bond also funded the new Kalama Elementary School build and improvements to Kalama High School.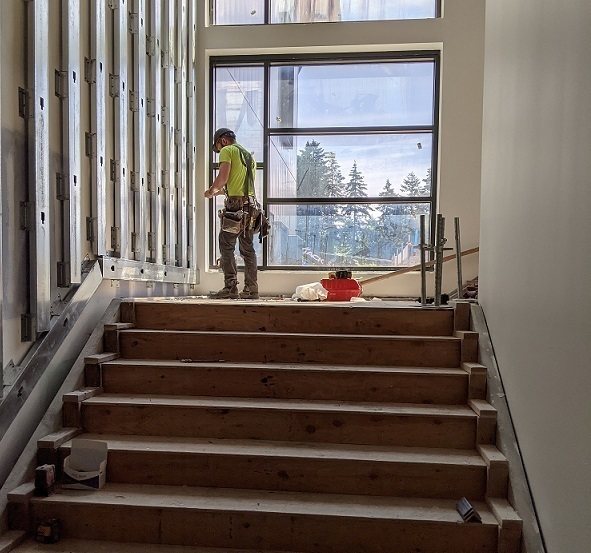 According to Project Manager Ted Jeffery with Emerick Construction, the jobsite crew size is currently ranging between 35-40 personnel, all doing interior and site civil work.
"We recently finished the underground utilities and final grading in preparation for sidewalk, curbs and stairs," explained Jeffery. "Landscaping has started on the north side of the project, and in the building's interior cabinetry is being placed. The next steps will be the installation of the flooring and finishing up on the elevator installation. The kitchen is nearly complete and is really taking shape."
As the building comes together and nears completion, Kalama Middle School Principal Jennifer McCallum said one of her biggest challenges is simply containing her excitement.
"There are just so many exciting things about this new facility," said McCallum. "Everything is so open! There are a lot of windows and natural light, and our science teachers are really looking forward to having new science labs."
Teachers are expected to move into the new building in August.