Parent Teacher Conferences Happening Now!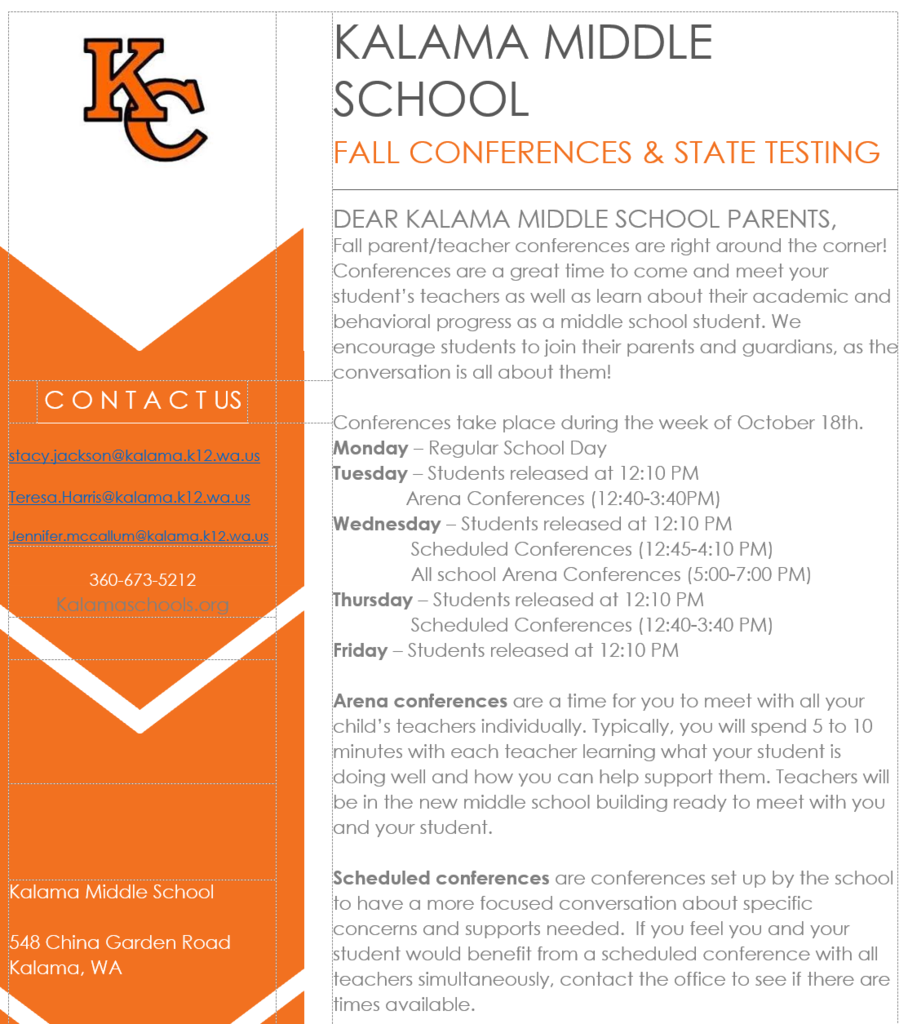 Note: The first day of school (Wednesday, Sept. 1) is NOT an early release Wednesday. School will release at 3 pm (KES) and 3:10 pm (KMS/KHS).

Happy Memorial Day Kalama!

Today we honor those who made the ultimate sacrifice in service to our country and to their families. #MemorialDay

The City of Kalama has informed us that utility crews will be upgrading a gas line on China Garden Road this week. We ask for your patience as this work may cause traffic delays before and after school.

Enjoy your Spring Break, students & families!

Effective Monday, March 22, no-cost grab-and-go meals will be available to all children (ages 0-18) on school days between 11-11:30 a.m.

Reminder: Monday, March 1 is a scheduled Staff Contract Day and there is no in-person learning or activities in the district.

Welcome back to campus, secondary students! We've missed you!

Friday (2/12) is a scheduled Staff Contract Day and there is no in-person learning or activities in the district. Look to your student's teacher for details, as they can assign students remote work that day. Also, no school on Monday due to Presidents' Day!

Reminder: There will be no school and no meal service on Monday and Tuesday (Jan. 25-26) due to staff contract days. Classes will resume on Wednesday, Jan. 27.

Welcome back, students & families! Happy New Year!

Enjoy your Winter Break, students! We'll see you in 2021!

Mark your calendars! Picture Retake Day is Thursday, Jan. 21 in the Elementary School Gym.

As of Monday, October 26, the district's free meal pick-up service will be located at the southwest corner of the new elementary school.

Check out our new "Return to School 2020" page for the latest reopening updates!

Enjoy your summer break everyone!

Congratulations to the Class of 2020!!!

The Kalama School District campus is closed today due to a gas leak. An all-clear is expected by late afternoon.

Thank you, voters! KSD citizens have approved the replacement levy that will maintain and enhance school programs, operations and services that are not completely funded by the state or federal government. We are so grateful for the amazing support the Kalama community has shown to our schools, staff and students!