EDIT MAIN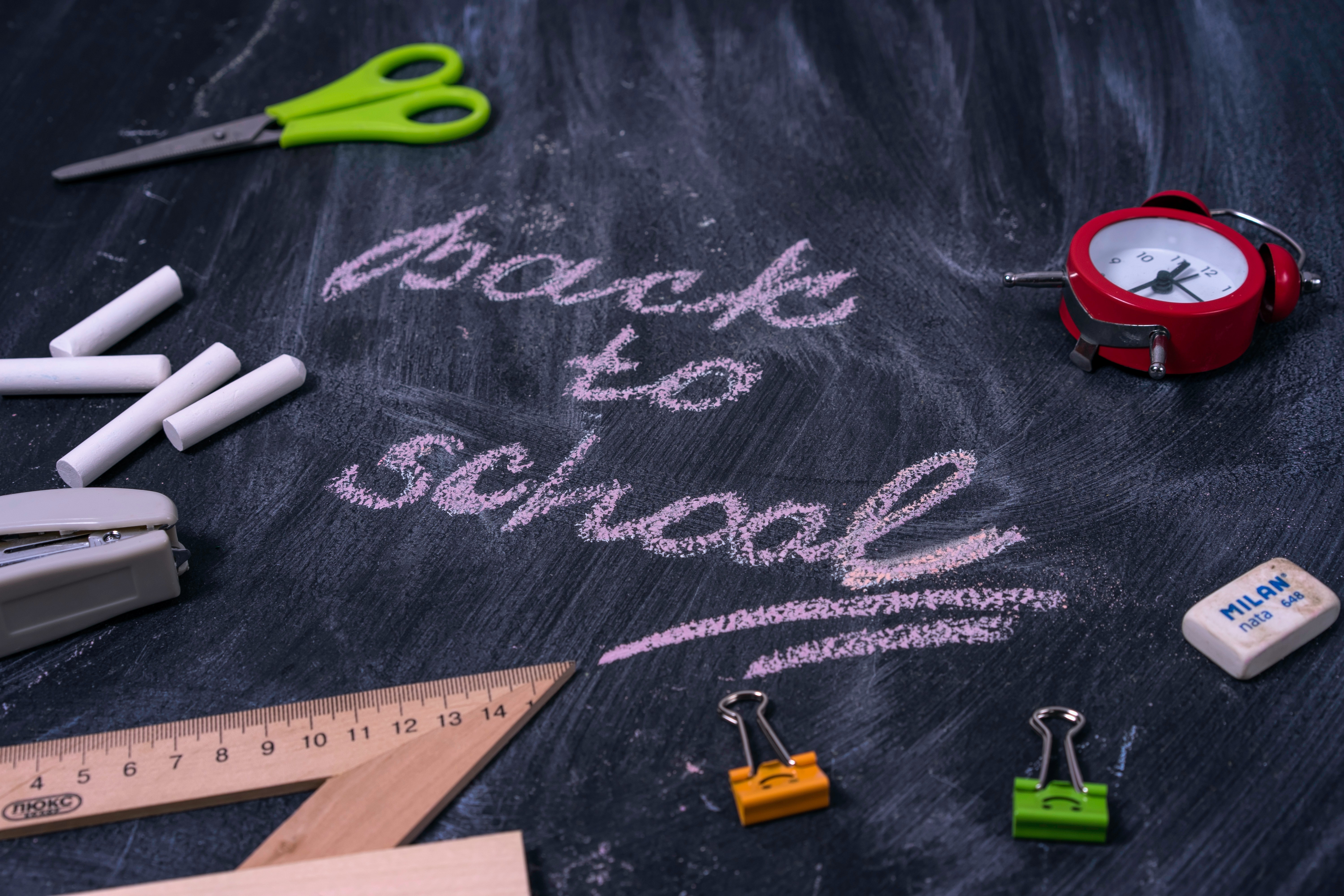 KALAMA ELEMENTARY SCHOOL - FALL 2020 PLANNING

Welcome to Kalama Elementary School's Fall 2020 resource page!
Our school has moved from a remote-only education model to one that includes greater opportunities for in-person learning. Kindergarten and First Grade students began four-days-a-week in-person instruction in October. At the same time, small group in-person instruction kicked off for grades 2-5.
Latest update: Regularly-scheduled small group learning remains in place for grades 2-5, but due to extremely high COVID-19 rates, efforts to increase the frequency and size of those groups are on hold. We look forward to increasing in-person opportunities for all students when it's safe to do so.
---
Daily health screening/attestation
Per state guidelines, each day that students attend in-person classes on campus, parents and guardians must attest that their student(s) is free of COVID-19 symptoms prior to boarding a school bus or entering a school building.
To simplify the attestation process, so that families don't have to submit health attestation forms every time their student has in-person learning, we've created an electronic Daily Health Screen Agreement Form. By completing this form, parents/guardians are able to agree in advance to conducting part of this daily COVID-19 screening, and to keep their student(s) at home if they have any symptoms. Families that choose NOT TO complete this form will be required to submit a written attestation of health form every day their student is on campus.
We encourage families to fill out and submit the electronic form as soon as possible and prior to your student arriving on campus for in-person learning.
---
From small groups to a/b hybrid
Our school is utilizing small group in-person learning for grades 2-5 as we transition to a traditional A/B hybrid learning model. When COVID-19 activity allows, we will slowly transition from small groups to a traditional A/B hybrid learning model, which features larger groups and more in-person time. Rather than set specific dates for these transitions to take place, our process will be an incremental one, naturally evolving and growing over time.
---
daily REMOTE LEARNING SCHEDULES
Daily schedules differ by grade and include both real-time (synchronous) learning opportunities and recorded (asynchronous) lessons. These schedules will be updated as in-person learning opportunities increase.
K-1st: Monday - Thursday, 8:30 a.m. to 3 p.m.
2nd Grade distance learning schedule
3rd Grade distance learning schedule
4th Grade distance learning schedule
5th Grade distance learning schedule
You can also use the graphic below for a general overview of how students engaged in distance learning will spend their time during the day:
(Click the image for full size)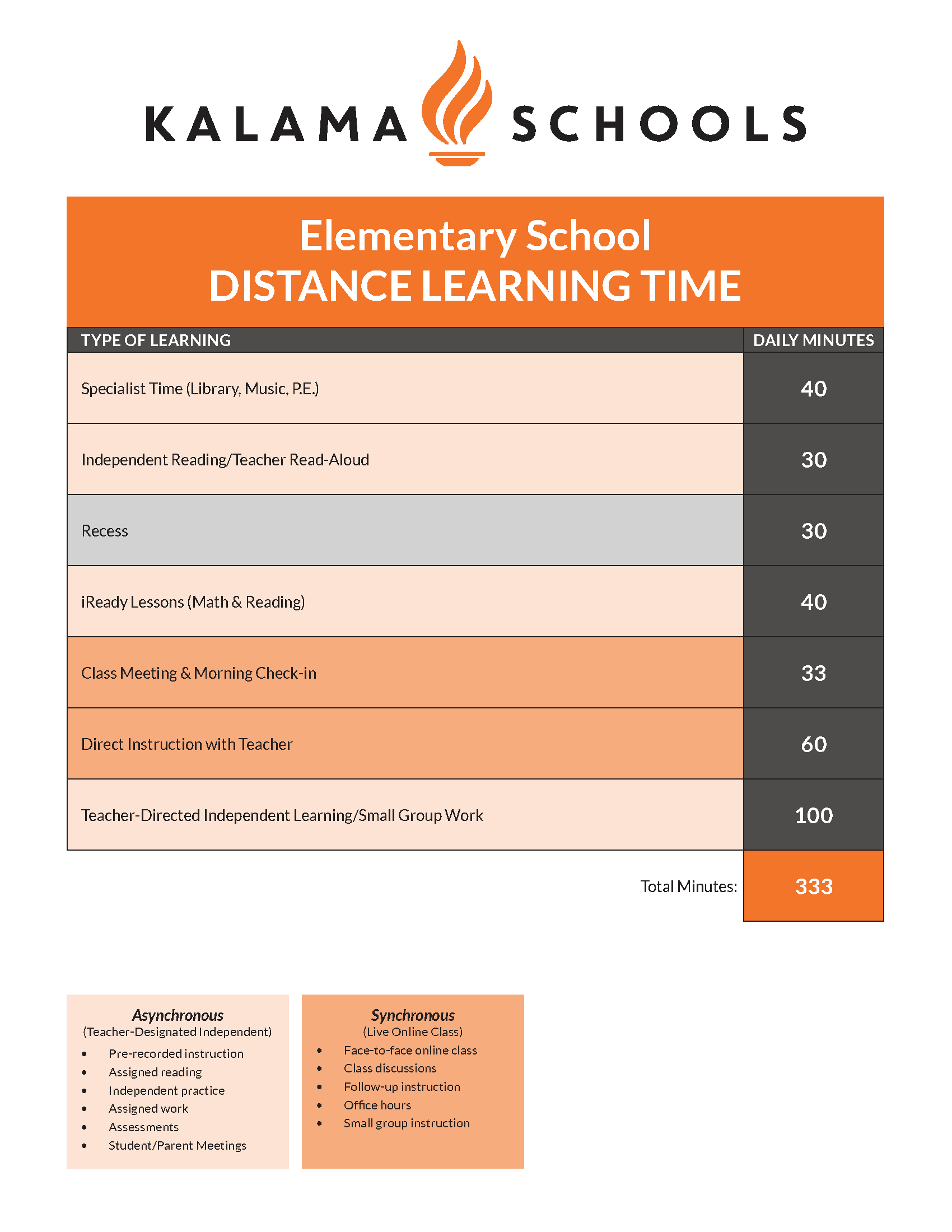 ---
HOME-BASED REMOTE INSTRUCTION
Families have the option to enroll their student(s) in a home-based remote learning program that is offered all year long. Students in this program will work with our teachers using the same curriculum as their peers on the modified in-person track. Scheduled in-person office hours will also be available to support these students.
Students who sign up for the home-based remote learning program are expected to commit to it for no less than the end of the current semester (ends January 22, 2021).
---
TECHNOLOGY
Kalama Elementary will continue to use Google Classroom this year. To assist you with navigating and logging into this online platform, take a look at this helpful guide. A Spanish version of the guide is also available.
---
FREQUENTLY ASKED QUESTIONS
Will students be required to wear masks on campus?
Yes. When on campus, all students will be required to wear masks and the school will adhere to cleaning and social distancing requirements as outlined by the Washington State Department of Health.
Will students get a mask break during the day?
Yes, students will be provided with several mask breaks during the day. We'll have more details to share on that in future email communications to families.
Will school buses be operating when in-person learning starts?
Yes, bus transportation will be available. More information, such as schedules and health protocols, is available here.
Can I get school lunch for my student(s)?
School lunches are available to all children ages 0-18 free of charge. Meal pick-ups take place between 11 a.m. and 12:30 p.m. in front of the current elementary school (not the new building). If you have any questions about the food service program, please contact Heidi Neiman at 360-673-5772.
What if I'm unable to follow the remote learning schedule?
We know that life happens, and some days more work can get done than others. You can adjust your student's schedule according to the times that work for your family, with some opportunities being available only at specific times (real-time, synchronous) and other activities available when it works for you and your learner (recorded, asynchronous). Teachers are using both video and synchronous teaching opportunities to provide instruction.
Where do I find a school supplies list for my grade?
School supplies lists can be found here.
---
MORE INFORMATION
Visit Kalama School District's Return To School 2020 page for additional resources and more Frequently Asked Questions. If you need to contact the school, you can call the office at 360-673-5207 or reach Principal Lougheed directly at kala.lougheed@kalama.k12.wa.us or 360-957-9874.